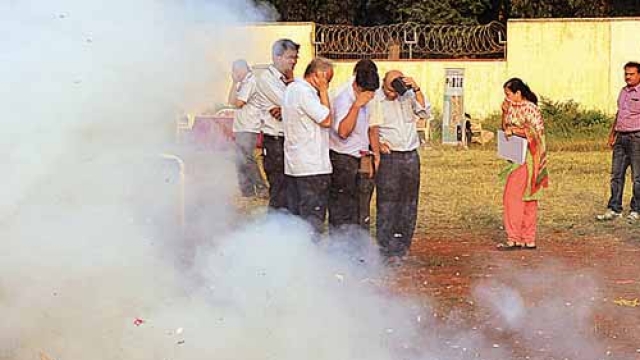 Diwali is round the corner & the capital's
air quality
has already reached an abysmal level says Central Pollution Control Board and System of Air Quality and Weather Forecasting and Research. Their reading of 318 on 23rd Oct itself is considered "very poor" globally. While the city's air quality falls to even more hazardous levels during the winter, it's unusual for levels to rise this early in the season. The Diwali traffic & the nearby crop burnings are being blamed for it.
To make things worse, an estimated 4000 to 5000 tonnes of fire-crackers shall be lit on Diwali in Delhi NCR between 8 to 10 hrs, which shall have a jolt affect on the air & noise pollution levels. The suspended air particles and the toxic gasses take days to clear, based on wind patterns. Their presence takes a heavy toll on people with respiratory disorders, asthmatics, kids and pets alike. These increased levels of pollutants trigger higher instances of wheezing, breathlessness, nausea, migraine & restlessness.
Do we all really need to endure so much for a few hours of thoughtless entertainment?
While we all do our bit to imbibe a sense of responsibility amongst the Delhites, it may take a while for wisdom to dawn on the majority. For the rest of us, there is still hope! Let's escape to the pristine & clear precincts of the Himalayan foothills including Corbett, Bhimtal & Sattal, where amazing services and awesome experiences awaits you. To add to it there are fantabulous offers that shall make this Diwali a greater treat for both "Body & Soul".
Wishing you good health & great cheer this Diwali.